About Us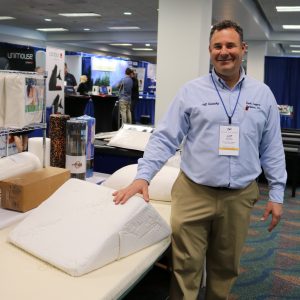 Back Support System, Inc is your resource for back and neck pain relief products. We've been manufacturing the highest quality products on the market for over 20 years. All of our products are Eco-friendly and made in the USA.
We feature an exclusive line of back support products to help improve sleep and reduce pain. We manufacture mattresses, foam rollers, wedges, ergonomic office chairs, traction units, cervical (neck) pillows, thoracic & lumbar supports, pillows, hot/cold packs, pet beds and much more.
We are committed to the development of innovative, patented, healing, Eco-friendly products that enhance your quality of life with a cutting edge focus on memory foam. There are many manufacturers of memory foam mattresses and bed toppers available today. We invite you to compare our quality and features to the leading brands and you will see why our customers sing our praises from the rooftops after they finally get a full night's sleep and wake up refreshed.
Whether you have back pain or neck aches and need relief; or you're looking for the best memory foam mattress or topper available – you have come to the right place.
Corporate Information:
Back Support System, Inc was originally founded in 1989 by Jeff Kalatsky who is our current CEO and inspiration. In February 2015, the Company changed ownership to facilitate growth and international expansion. We currently serve customers in 4 different countries, and are commuted to both domestic and international expansion so that people and pets throughout the world can love a more comfortable life.
We've been green since we started! We make all our products locally, and have since Day 1.
All of our products are non-toxic, third party verified clean, LOW-VOC and made in the USA.